When it comes to the best Instagram hotels London has to offer, there are plenty of competitors vying for the title of prettiest place in town. Whether you like it or not, it is a fact that the photo sharing app Instagram has had a profound impact on the hospitality sector since it burst onto our (phone) screens in 2010. Its powerful influence has extended to hotels too, where spas, lobbies and swimming pools are all designed to maximise the potential for social media content.
While restaurateurs and hoteliers once only had to worry about providing good food and service, the rise of the 'gram meant that the look of a venue suddenly had a new importance. Sure, good design had always been an essential part of providing an exemplary guest experience, but now consumers wanted to enjoy 'Instagrammable moments' that could make them the envy of their friends – think smoking cocktails, bespoke furnishings and top-notch spa facilities.
Operators began to wonder how they could court this new crowd and create an Instagram-friendly hotel that would encourage customers to take their own candid snaps and share them on their personal social media pages, drumming up some free advertising along the way. As with any movement, the 'Instagram effect' has also been known to go too far and there are a number of design trends popularised by the social media giant that now feel cliche (yes, we are looking at you plastic flower walls), so it is important to get the balance right.
Story continues below
Advertisement
As the London hotel space grows ever-more competitive, consumers expect serious bang for their buck, so providing striking, memorable interiors is a sure way to get people talking. Whether you are a budding influencer or a hotelier in need of inspo, we have rounded up the very best Instagram hotels London has to offer. Read below to discover them, as well as our top 'money shot' for each venue, to ensure you are maximising your likes.
Instagram hotels London
Blakes, South Kensington
Why: Describing itself as London's 'first five-star boutique', Blakes first came onto the scene in 1981, designed by the renowned Anouska Hempel and boasting the kind of dramatic, opulent interiors you might be more used to seeing in a James Bond film (coincidentally, Hempel played one of the 'angels of death' in On Her Majesty's Secret Service). Inside, you will find a striking black and gold colour palette, mirrored surfaces and suites complete with four-poster beds. Truly an Instagrammer's paradise.
Where: 33 Roland Gardens, SW7 3PF
The money shot: Head to the basement level to be wowed by Blakes Below, a late-night venue that's home to striking decor and regular live music.
Hux, Kensington
Why: Bored of minimalist hotels with all-white walls? Well, you won't find any of that at Hux, which is home to 24 stylish rooms and a regular schedule of live music. Colour is the name of the game here, with bright hues to be found on practically every surface, as well as on the furnishings – think neon pink lamp shades and mustard yellow tub chairs.
Where: 7-9 Kensington High Street, W8 5NP
The money shot: The hotel's lounge, with its electric blue walls and oversized sofas, is the perfect spot to take a selfie or two.
The Londoner, Leicester Square
Why: The jury is still out on whether The Londoner – home to no less than 350 rooms – can be described as a boutique, but nonetheless the property describes itself as the 'world's first super boutique'. What is certain however is that the design here is seriously impressive. Ultra-luxe interiors include wood-panelled walls and soft furnishings, while striking light fixtures and epic views of the capital pretty much come as standard.
Where: 38 Leicester Square, WC2H 7DX
The money shot: Take the lift up to 8 at The Londoner, the hotel's stunning rooftop izakaya bar and get a coveted shot in front of the outdoor fireplace.
The Mandrake, Fitzrovia
Why: If you were to take The Mandrake at face value, you would never guess the jaw-dropping interiors that lay behind its rather discreet entrance on Newman Street. Once inside though, you will be greeted by dark and dramatic finishes that scream luxury. The hotel's suites are just as fabulous, boasting freestanding bathtubs and bespoke furniture.
Where: 20-21 Newman Street, W1T 1PG
The money shot: The first-floor Jurema terrace is a jungle paradise right in the middle of London. Honourable mention to the futuristic loos here too.
The Standard, King's Cross
Why: Another London hotel that has rejected the fashion for minimalist interiors is The Standard in King's Cross, the first UK outpost for the US brand. Inside, you will discover colourful tiled floors, retro furniture and curved walls, all of which manage to stay on the right side of 70s chic. Don't miss the restaurants and bars too, which include the top-floor Decimo from Michelin-starred chef Peter Sanchez-Iglesias.
Where: 10 Argyle Street, WC1H 8EG
The money shot: The stylish rooms are great Instagram fodder, but if you're not checking in, head to the rooftop for some pretty impressive shots of the capital's skyline.
Treehouse London, Marylebone
Why: Treehouse is probably among the more subdued Instagram hotels London has to offer, but don't mistake that for boring. Here, you will find plaster-washed walls paired with colourful scatter cushions and rattan furniture, creating a calming space which could have been lifted straight from a Pinterest board. Can't make it to London? A Manchester sibling is slated to open this year.
Where: 14-15 Langham Place, W1B 2QS
The money shot: The Nest cocktail bar, designed to look like an urban jungle, is the place to be seen (and snapped) here.
Ham Yard Hotel, Soho
Why: Firmdale Hotels are known for their striking interiors which have inspired a million imitators and Ham Yard Hotel is no different. Founder and creative director Kit Kemp has instilled her love of prints and fabrics into the hotel's interiors, resulting in a riot of colour and texture that is fun and unique, but never overwhelming.
Where: 1 Ham Yard, W1D 7DT
The money shot: While everyone else is taking snaps of the guest rooms, we'd recommend heading to the hotel's 1950s-themed Croc Bowling Alley, for some nostalgic snaps that are sure to be a hit.
The Ned, City of London
Why: Featuring high ceilings, verdite columns and a circular stage in the centre, the ground floor of The Ned (former home of the Midland Bank) is practically begging to be featured on your Insta feed – it is also home to a handful of restaurants, so there are plenty of opportunities for snapping your dinner too. Members and hotel guests also have access to the rooftop level, which features an outdoor pool and some pretty impressive London views.
Where: 27 Poultry, London EC2R 8AJ
The money shot: If you're staying the night, you'll be able to enjoy the Vault Bar, a late-night club space within the original Midland Bank strongroom which is home to 3,000 safety deposit boxes.
St Pancras Renaissance Hotel, King's Cross
Why: Ever found yourself at the St Pancras Renaissance Hotel and wondered why there is an influx of amateur photoshoots happening on the staircase? Well, that's because they are trying to recreate the iconic video for Wannabe by the Spice Girls, which was filmed in this very spot. Famous music history aside, the hotel is also well known for its striking interiors, which include the kind of Victorian Gothic aesthetic that is pretty hard to come by these days.
Where: Euston Road, NW1 2AR
The money shot: The hotel's swimming pool is a retro delight, perfect for a slot on the feed.
The Landmark London, Marylebone
Why: Something of a grande dame of the capital's hotel scene, The Landmark London is in the process of undergoing some serious changes – expect a stylish new Champagne terrace to be introduced this spring. Elsewhere, the hotel's famous Winter Garden restaurant will be undergoing a refresh, including the addition of new decor and lighting and the removal of white tablecloths, to bring a more relaxed feel to the space.
Where: 222 Marylebone Road, NW1 6JQ
The money shot: The Winter Garden, with its towering palm trees and glass roof, is a truly one-of-a-kind space and a snap here is sure to make your followers envious.
The Franklin London, Knightsbridge
Why: Home to just 35 bedrooms and suites, a visit to The Franklin feels like popping by your (very) wealthy friend's home. The vibe is cosy and intimate, but the dramatic interiors remind you which postcode you are in – expect a dazzling monochromatic colour scheme, mirrored surfaces and splashes of marble.
Where: 24 Egerton Gardens, SW3 2DB
The money shot: Pull up a stool at The Franklin Bar for post-prandial cocktails and grab a a solo shot that is guaranteed to rake in the likes.
Beaverbrook Town House, Chelsea
Why: A sibling to the Surrey original, Beaverbrook Town House manages to capture the quirkiness of a country house despite being in the heart of London. The property is home to 14 suites, each styled and named after celebrated London theatres. Elsewhere, expect to find
plenty of colour, reams of patterned wallpaper and plush velvet furnishings.
Where: 115 Sloane Street, SW1X 9PJ
The money shot: Personally, we're huge fans of the intimate and colourful library space, which is quintessentially country chic.
The Hoxton, Southwark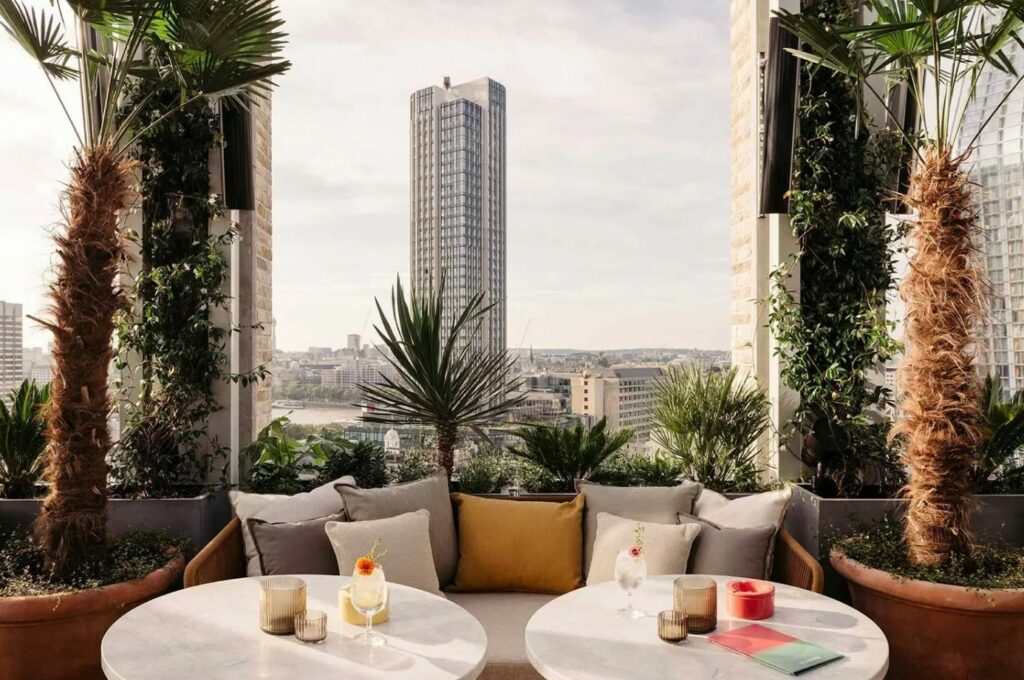 Why: You could visit any of The Hoxton sites in the capital (there are currently four) and find Instagram-worthy #content, but we hold a special place in our heart for The Hoxton Southwark. You can expect the usual understated-chic style in the rooms and public spaces, but the jewel in the crown here is rooftop restaurant Seabird – home to buzzy vibes and gorgeous views of London town.
Where: 40 Blackfriars Road, SE1 8NY
The money shot: During the summer, the Seabird terrace is the hottest ticket in town, so a snap here will show your followers just how in-the-know you really are.
Chateau Denmark, Soho
Why: Billed as a rock 'n' roll hotel, Chateau Denmark is definitely one of the most unique concepts in the capital. Here, set across 16 buildings, you will find 55 'Session Rooms' and apartments each kitted out with a distinct style. The interiors are best described as gothic meets punk, which means you will find gold-trimmed beds with graffitied headboards and roll-top red-lined bathtubs perched atop a marble plinth.
Where: Denmark Street, WC2H 0LA
The money shot: A soak in the tub is surely mandatory at a spot this luxurious and deserves a space on the feed (just make sure you use enough bubbles!)
Artist's Residence, Pimlico
Why: With just 10 bedrooms on-site, the London outpost of Artist's Residence is truly boutique. It also boasts some seriously gorgeous interiors, which are stripped back and understated for the most part but livened up by the quirky artworks dotted all around the space. Vintage and reclaimed furniture completes the pretty picture, while the casual menu turned out in the downstairs restaurant also features plenty of gram-worthy breakfast fare.
Where: 52 Cambridge Street, SW1V 4JD
The money shot: We love the vintage desks featured in some of the rooms here, supported by striking artworks hanging directly overhead.